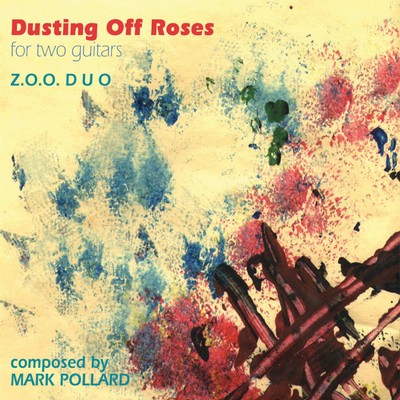 Dusting Off Roses
The debut recording of piece for two guitars by Australian composer Mark Pollard, recorded by Z.O.O. Duo - Peter Constant and Marion Schaap.
A minimalistic, acoustic and atmospheric journey born of a collaboration between two exciting voices in Australian music, composer Mark Pollard and Z.O.O. Duo. Divided into five short movements, this CD single is a unique listening experience of profound ambient beauty.
Artist

Z.O.O. Duo, an original, classical guitar duo, features talented guitarists Peter Constant and Marion Schaap, directors of guitar at the Victorian College of the Arts.
Track Listing
Dusting Off Roses Mark Pollard

Part 1
Part 2
Part 3
Part 4
Part 5
Performers
Composer
Australian composer Mark Clement Pollard has an eclectic compositional style utilising such diverse materials as, improvisation, jazz, pop and the indigenous music's of South East Asia.
Where to buy
Dusting Off Roses is available for download from the iTunes Music Store.
It's available for streaming through Apple Music.
Dusting Off Roses is available as as CD. It can be purchased online through Buywell Music or the Australian Music Centre which both offer secure online ordering.
Move CDs can be ordered through music retailers across Australia including Readings.
Product details
List price

$10.00 AUD

Release date

1997

Copyright

© 1997 Move Records

Phonogram

℗ 1997 Move Records

Categories

Catalogue number

MCD 088

Barcode

EAN 9314574008821