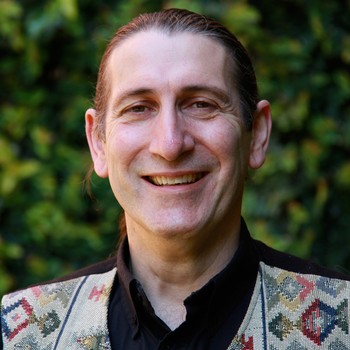 Mark Pollard
Australian composer Mark Clement Pollard has an eclectic compositional style utilising such diverse materials as, improvisation, jazz, pop and the indigenous music's of South East Asia.
His works have been commissioned by Elision, Pipeline, the Astra Choir, the Australian Chamber Soloists and Michael Kieran Harvey, among others.
From 2010 site specific elements feature in many of his collaborative works. This has included resonating Spaces Projects in Vancouver, Edinburgh, Beijing, Singapore and the Cook Islands and in Australia installation projects with the Melbourne ZOO, The Melbourne Museum, Scienceworks, The Melbourne Zoo and the Royal Melbourne Hospital. Mark is Professor Interactive Composition at the University of Melbourne.
Currently teaching composition at the Victorian College of the Arts, Mark Pollard completed a Masters degree at La Trobe University and has been awarded several prizes. These include the 1993 Spivakovsky Award, the 1992 Maggs Award and finalist in the Third Tokyo International Composition Contest, 1988.
Press quote
"[Pollard's] eclectic style embraces diverse influences such as collaboration, improvisation, jazz, pop, minimalism and the indigenous music of South-East Asia."
— ABC 24 Hours
Gongworks was set up in 1997 by Mark Pollard to create new work through the fusing of cross cultural and cross media materials. Sound, theatre and ritual are essential elements in a Gongworks performance. More about Gongworks Gamelan

Inspired by the Gamelan and Japanese Shinto music, the recent ambient work of Mark Clement Pollard is unique in its pursuit of beauty and simplicity. A Handful of Rain is the first comprehensive collection of this acclaimed Australian composer's popular style.
Composer
Producer
Compositions by Mark Pollard also appear on