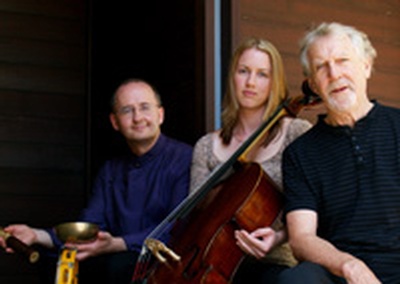 21 November 2011
Manins Gould Jones Trio: The Cello and the Mockingbird
"Improvising at its beautiful best. Tony Gould's understated lyrical piano finds the warm wandering cello of Imogen Manins, all touched with the quiet mystery of David Jones' percussion. Deeply musical, sparse and graceful." Julia Lester, ABC Classic FM

Further reading
Improvisations on beautiful melodies. Cellist Imogen Manins joins forces with Tony Gould (piano) and David Jones (percussion) for this very special new release from Move Records.

Pianist and composer Tony Gould is one of Australia's most respected musicians. His career has embraced many styles of music, not least jazz and other improvisatory musics in addition to traditional and contemporary classical musics. He gives many concerts each year and for 50 years he has been involved in an extraordinary number of recording projects both as pianist and composer and has been at the forefront of music education in Australia via various tertiary institutions in Melbourne and throughout Australia.

David Jones is one of the most innovative and musical drummers in the world. He has toured nationally and internationally and has performed and recorded in the genres of rock and pop, jazz, classical, ambient, world music, cabaret, theatre, television and improvised works.

Imogen Manins is an uncommonly gifted cellist, with a formidable grasp of the standard classical repertoire as well as a wonderfully creative and innovative musical mind. This has led her to collaborations with a number of Australia's most outstanding improvisers, and an exploration of new musical ground for cello.