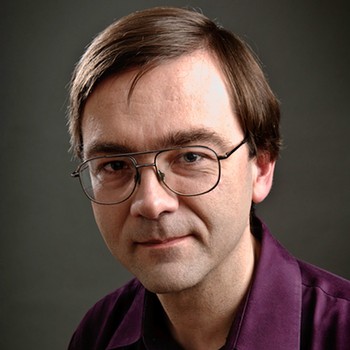 Elliott Gyger
Elliott Gyger was born in Sydney, and has been writing music since about the age of ten. His compositional and research interests include the creation of a purely musical sense of drama and narrative, and the multilayered interplay of music and text.
He holds degrees in composition from the University of Sydney and Harvard University. His composition teachers have included Ross Edwards, Peter Sculthorpe, Bernard Rands and Mario Davidovsky. His music has been played by many of Australia's major performing groups, including the Sydney, Melbourne, Adelaide and Tasmanian Symphony Orchestras, as well as North American ensembles such as the Nouvel Ensemble Moderne, Columbia Sinfonietta, Collage, and the Emerson, Mendelssohn and Ying Quartets.

Among his major works are the "nocturnal concerto for orchestra" Deep and dissolving verticals of light (1994); A wilderness of mirrors (1996), for E flat clarinet and large ensemble; si doux (1997), commissioned by the Australia Ensemble; Polishing Firewood (2001), for the New York New Music Ensemble; and From the hungry waiting country (2006), for Halcyon. Recent premieres have included a celesta concerto entitled Angels and Insects (2010); voice (and nothing more) (2011), for San Francisco-based choir Volti; and In Praise of Sandstone (2012), to words by John Tranter, for solo voices, choir and percussion ensemble. His "dialogue for orchestra" on air (2011) was awarded the Sydney Symphony 80th Anniversary Composition Prize, receiving its first performances with the SSO under Vladimir Ashkenazy in March 2012. giving voice (2012), for mezzo-soprano and five instruments, was awarded the 2013 Paul Lowin Song Cycle Award.
Elliott Gyger was Assistant Professor of Music at Harvard from 2002 to 2007, and has taught at the University of Melbourne since 2008, where he is currently Senior Lecturer in Composition.
Compositions by Elliott Gyger appear on
Composer
The tune "Twinkle Twinkle Little Star" has fascinated and irritated composers through the ages. In this second collection Julian Yu has commissioned a staggeringly diverse cornucopia of stylistic arrangements of the tune. Michael Kieran Harvey tackles scores from the frivolous to the frenetic, the fragile to the fragrant, the popular to the profound.

Composer
Internationally acclaimed Australian pianist, Zubin Kanga releases his first CD with Move Records, Piano Inside Out. It features new innovative solo piano works by Australian composers, commissioned by Kanga and created in close collaboration with him over several years.

Composer
Michael Kieran Harvey plays two works by composer Elliott Gyger. Michael says: "They bookend Elliott's extraordinary musical universe – which, like Messiaen, appeared fully-formed at a precocious age, to extend in profundity and depth throughout an already long and stellar career."