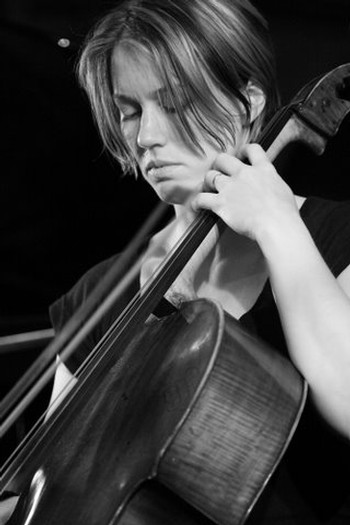 Imogen Manins
Imogen Manins is an uncommonly gifted cellist, with a formidable grasp of the standard classical repertoire as well as a wonderfully creative and innovative musical mind. This has led her to collaborations with a number of Australia's most outstanding improvisers, and an exploration of new musical ground for cello.
With an Australian Postgruaduate Award Imogen completed a Masters in Music Performance at the Victorian College of the Arts in 2002, studying with the distinguished cellist Nelson Cooke, and writing a thesis on Czech composer Bohuslav Martinu.
Her recording Under the Tall Trees with David Jones and Tony Gould is yet another new direction for the cellist, looking to both the past and present for inspiration and material, always with the intention of making music which combines craft with creativity and always in the true spirit of improvisation and beauty.
Artist's website: www.imogenmanins.com
Imogen Manins is featured on the following titles

Performer
This CD combines a jazz trio, a string orchestra, and various featured instrumental soloists, not to mention the vocal talents of Gian Slater and Eddie Perfect. Graeme Lyall has provided superbly rich arrangements of songs from the Great American Songbook in addition to other notable tunes.

Performer, Arranger
Such a Sky features recordings of live performances from the Melbourne Recital centre. Cellist, Imogen Manins and Pianist, Tony Gould are joined by a stella lineup of guests including Slava Grigoryan, David Jones, Gian Slater and Riley Lee.

Performer: Cello, Composer
Improvisations on beautiful melodies. Cellist Imogen Manins joins forces with Tony Gould (piano) and David Jones (percussion) for this very special new release from Move Records.
Imogen Manins also appears on

Performer: Cello
This is a tribute to revered Australian pianist, praised educator and musical thinker Dr Tony Gould, Australia's first professor of jazz. It comprises an audio CD and bonus one-hour video DVD documentary.

Performer: Cello
This recording is dedicated to Tony Gould's dear friend Sonja Krawatt. It is a collection of traditional and emotionally rich Jewish melodies. Cello and clarinet join Tony Gould's piano on some of the tracks.

Performer: Cello
After several years of musical involvement in television, radio and film, Alwyn and Laurie Lewis decided to change direction and concentrate on songwriting. Here is the result.