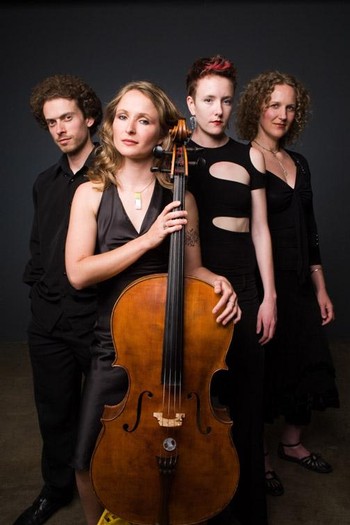 Silo String Quartet
Silo String Quartet was founded by cellist and composer Caerwen Martin in 1998. Their influences include Kronos String Quartet, Contemporary Australian, Asian and American repertoire.
Silo has performed regularly at the Melbourne International Jazz Festivals and Melbourne International Women in Jazz Festivals since 1999 working with such artists as Fiona Burnett, Belinda Moody, Antonio Tenace, David Chisholm and Quinsin Nachoff (Canada) and was the resident string quartet for the Federation Music Week International Composers Forum. In 2006 Silo recorded this CD for Melbourne based dance company BalletLab entitled "Origami", composed by David Chisholm. Silo also feature on the live ABC CD Soaring at Dawn for jazz trio and String Quartet composed by soprano saxophonist Fiona Burnett.
Recent work has included performing at Glen Eira Town Hall, Billilla House, Stonington Manor, Melba Hall, Bennetts Lane and Federation Square as well as many recording and performance projects for composers and popular artists including Dan Brodie, Millionaire Souls, CC Martini, Philip Gelbach and Johanna Selleck. Silo has broadcast live on ABC and Melbourne radio stations and features on Caerwen Martin's new soundtrack to the Australian feature film 'Lost and Found' by David Blake.
Members are Aaron Barnden (violin), Andrea Keeble (violin), Ceridwen Davies (viola), Caerwen Martin (cello).
Silo String Quartet is featured on the following titles

This is composer Eve Duncan's third release, a 2-CD set, and it heralds new approaches in her music.
Music from BalletLab's "Origami" which premiered on 13 July 2006 in Melbourne. Music created by David Chisholm, with some tracks played by Silo Quartet. This score was nominated for the 2006 Green Room Awards.
Performer
Members of Silo String Quartet