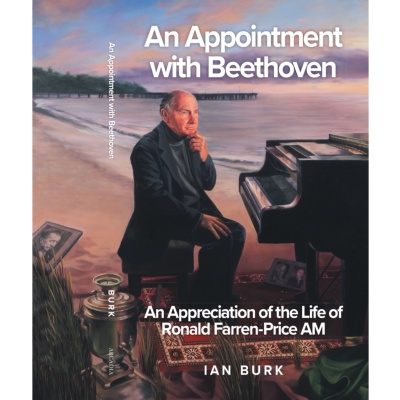 16 April 2018
An appointment with Beethoven – the life of Ronald Farren-Price
Ronald Farren-Price is the grand old man of the piano in Australia. This book by Ian Burk is about his life, work, career and outlook, based on his own reminiscences.
As well as pursuing an international career as a recitalist and concerto soloist for more than sixty years, he has taught piano and served as Dean of the Faculty of Music at the University of Melbourne, and as Honorary Professor of the Tianjin Conservatory of Music was a pioneer in bringing Australian performance to China and to South-East Asia.
Between these covers we have his early years in Brisbane and Melbourne; his study abroad in the United Kingdom and subsequently in New York with the legendary pianist Claudio Arrau; his international concert tours, notably those to the former USSR; his performing repertoire, and his family life.
Released at the same time as the book (early 2018) are two new Move CDs featuring Ronald Farren-Price's superb performances of Brahms and Schubert sonatas.
The book is published by Arcadia (Australian Scholarly Publishing)
Further reading

Ronald Farren-Price "... a sensitive artist and a virtuoso of top rank ... he demonstrated a perfect balance between the sound and the expression of the music ... definitely a pianist of great distinction."

Performed by Ronald Farren-Price.

Performed by Ronald Farren-Price