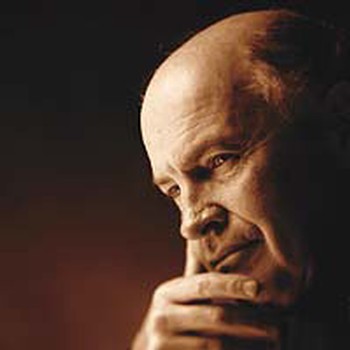 Ronald Farren-Price
Ronald Farren-Price "... a sensitive artist and a virtuoso of top rank ... he demonstrated a perfect balance between the sound and the expression of the music ... definitely a pianist of great distinction."
Concert reviews, such as this one from Copenhagen, attest to the rare artistry, sensitivity and virtuosity that is the hallmark of the Australian pianist Ronald Farren-Price. His international career began with his recognition by the legendary pianist Claudio Arrau, under whose guidance his distinctive style matured. It is a style where clarity of expression and firmness of touch are paramount, where a bold nobility is brought to each performance.
In addition to performing throughout Australia. Ronald Farren-Price has made annual concert tours overseas for the last two decades. He has appeared both in recital and as concerto soloist in the major concert halls of over forty countries. Among his most noted appearances are those at Queen Elizabeth Hall London, Carnegie Recital Hall New York, Tchaikovsky Hall Moscow, Philharmonic Hall St. Petersburg, Musikhalle Hamburg, Brahmsaal Vienna, Teatro Colon Buenos Aries and the Melbourne Concert Hall.
As a soloist, he has appeared with renowned conductors including Antal Dorati, Ferdinand Leitner, Sir Eugene Goossens, Hubert Soudant, Sir Charles Groves, Willem van Otterloo, Hiroyuki Iwaki and many others.
Ronald Farren-Price has the honour of being the first Australian pianist invited to play in the former USSR. He has played to capacity houses in St. Petersburg and has even been mobbed by enthusiastic audiences. His last tour there, just prior to the breaking apart of the Soviet Union, was his eleventh and most extensive tour beginning on the eastern coast and culminating with a concert in Moscow's Bolshoisalle. He has also been a pioneer in taking Australian performance to China where he has given recitals and masterclasses in Beijing and other cities during two tours. He was appointed Honorary Professor of the Tianjin Conservatory of Music.
Ronald Farren-Price, recently retired as Head of Keyboard at the School of Music at the University of Melbourne. He has been named as a Steinway artist by Steinway and Sons.
In addition to his career as a concert pianist, Ronald Farren-Price is a Principal Fellow of the Faculty of Music, University of Melbourne where he is a former Dean as well as a former Director of the Australian National Academy of Music. Ronald Farren-Price was awarded the Order of Australia in 1991 for services to music. He was the recipient of the University's Dublin Prize in 2002 and in 2005 the AMEB awarded him an honorary FMusA and the University of Melbourne conferred on him the honorary DMus.
Ronald Farren-Price is featured on the following titles