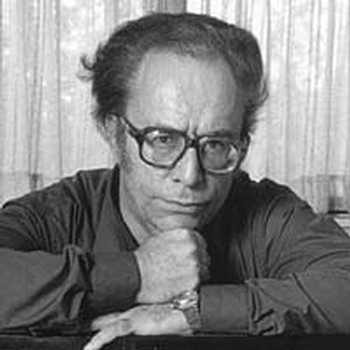 Larry Sitsky
Larry Sitsky's activities as a composer, pianist, writer, broadcaster and teacher place him inevitably to the fore among today's ambassadors of contemporary Australian piano music. Through his work to date he has made a significant contribution to the Australian music tradition.
Larry Sitsky was born in Tianjin (formerly Tientsin), China, of Russian-Jewish émigré parents. He demonstrated perfect pitch at an early age, by identifying notes or chords played in a different room. He studied piano from an early age, gave his first public concert at the age of nine, and started writing music soon thereafter. His family was forced to leave China during Mao's rule. They came to Australia in 1951 and settled in Sydney. He had sat for Cambridge University Overseas Matriculation before leaving China.
His first studies at university were in engineering, at his parents' insistence. This was not successful and "he convinced his parents to allow him to pursue his passion, music". He obtained a scholarship to the New South Wales Conservatorium of Music, where he studied piano, briefly with Alexander Sverjensky but mainly with Winifred Burston (a student of Ferruccio Busoni and Egon Petri), and composition, graduating in 1955. In 1959, he won a scholarship to the San Francisco Conservatory, where he studied with Egon Petri for two years.
Returning to Australia, he joined the staff of the Queensland Conservatorium of Music, after being accepted sight unseen based on a recommendation from Petri. His Australian studies and his subsequent studies in the United States, "combined with the Russian heritage from his early studies in China, [make] him a unique repository of piano techniques and tradition which is acknowledged internationally".
A grant from the Myer Foundation in 1965 enabled him to conduct research into the music of Ferruccio Busoni, on whom he has written extensively. In 1966 he was appointed Head of Keyboard Studies at the Canberra School of Music, was later Head of Musicology and was Head of Composition Studies. He is currently Emeritus Professor of the Australian National University in Canberra.
Sitsky has always performed as well as composed, and as a student won performance awards. He believes that composers should perform, believing that "without this communion with a live audience, music-making all too easily becomes over-intellectualised, sterile and arid". As a performer, he champions twentieth-century repertoire.
In terms of composition, Sitsky has regularly changed his musical language in order to "express himself in ways that are not familiar and 'easy'".
Larry Sitsky attracted attention when he, among others, criticised the Keating government for giving successive artistic fellowships to the pianist Geoffrey Tozer. He explained that his criticism was not personal against Tozer, who was a friend of his, but that it was a matter of principle.
Press quote
"One of Australia's most neglected senior composers, mainly because of his long-time academic and performing concentration in the ACT, Larry Sitsky made a name for himself through controversy in the 1960s. His compositions have rarely travelled to Melbourne but his reputation as a pianist has, if anything, grown over the past half-century."
— Clive O'Connell, The Age A2
Larry Sitsky is featured on the following titles

The works that appear on this 2-CD set are the result of research and performance into a particular era of Russian music. Although the musical distance between the Rubinstein Op.88 Variations and the other later Russian works is often vast, the chronological time is actually fairly short.
Performer: Piano
Features 'De Profundis' based on texts by Oscar Wilde, in addition to 'Violin Concerto No.2', 'Fantasia No.2' and 'Petra'.
Performer: Piano
Composer

A valuable collection of Australian compositions for piano, by some of Australia's most respected and inventive composers and performed by pianist- composer, Larry Sitsky.
Performer: Piano
Composer
Compositions by Larry Sitsky also appear on