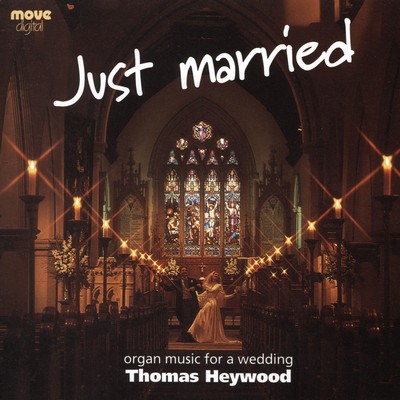 Just Married ― organ music for a wedding
A compilation of history's most celebrated organ music which also happens to be popular at weddings. Insert notes for the disc contain a useful tabulation of the tracks into processionals, recessionals and 'signing music'.
Includes Lemare's 'Gavotte à la Cour', Sammartini's 'Canto Amoroso', Schubert's 'Ave Maria', Handel's 'Hallelujah Chorus', 'Overture and The Rejoicing from Fireworks Music'; Wagner's 'Prelude to Act III 'and 'Bridal Music ' from 'Lohengrin', Mendelssohn's 'Wedding March 'from 'A Midsummer Night's Dream ' and much more.
Artist

Thomas Heywood is one of Australia's most-sought after concert organists, holding an enviable reputation as one of the leading interpreters of the large-scale romantic and transcription repertoire.
Press quotes
"Heywood's technique is immaculate, his projection of the music positively three-dimensional, and his obvious enjoyment of the task radiates through the notes, catching up the listener and carrying us along the way."
— Organist's Review, UK
"Oh that every church had as good an organ as St. Mary's, and that every parish organist had a technique like Heywood's!"
— One Voice
"delightful listening (even if you're not contemplating matrimony)"
— Bruce Steele, Organo Pleno
Audio preview
Track Listing
Performers
Composers
Where to buy
Just Married ― organ music for a wedding can be purchased online through Buywell Just Classical or the Australian Music Centre which both offer secure online ordering.
This title is also available in (or can be ordered through) many fine music retailers across Australia, including Thomas' and Readings.
Product details