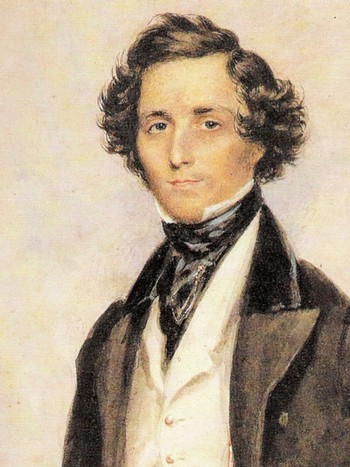 Felix Mendelssohn
Jakob Ludwig Felix Mendelssohn Bartholdy (1809–1847) was a German composer, pianist, organist and conductor of the early Romantic period. Mendelssohn's work includes symphonies, concerti, oratorios, piano music and chamber music.
His most-performed works include his Overture and incidental music for A Midsummer Night's Dream, the Italian Symphony, the Scottish Symphony, the Hebrides Overture, his Violin Concerto, and his String Octet. After a long period of relative denigration due to changing musical tastes and anti-Semitism in the late 19th and early 20th centuries, his creative originality has now been recognised and re-evaluated. He is now among the most popular composers of the Romantic era.
Mendelssohn was particularly well-received in Britain as a composer, conductor and soloist, and his ten visits there – during which many of his major works were premiered – form an important part of his adult career. His essentially conservative musical tastes, however, set him apart from many of his more adventurous musical contemporaries such as Franz Liszt, Richard Wagner and Hector Berlioz. The Leipzig Conservatoire (now the University of Music and Theatre Leipzig), which he founded, became a bastion of this anti-radical outlook.
Compositions by Felix Mendelssohn appear on