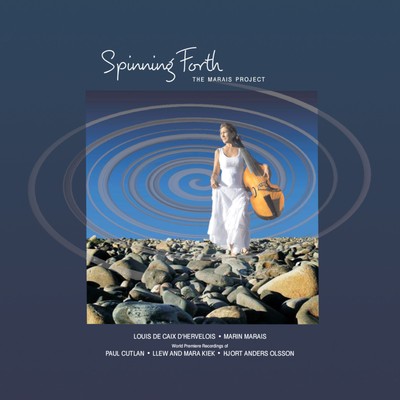 Spinning Forth
The title of this CD is suggestive of the music yet to come. The album draws together several threads implicit in Marais' purpose and their Swedish roots. At the core remains the Viol de Gamba music of the French baroque, but also newly commissioned Australian compositions - spinning forth in new directions.
Jenny Eriksson can't remember how many times she received this advice in the years after she gave up her career as a promising cellist and sold her two cellos to fund overseas' studies on the viola da gamba. Discarding all logical guidance, she caught a plane to Holland and stepped "into the abyss" to create a future for herself on an instrument few music lovers in her home country had heard of and ever fewer seemed to like.
In the decades since, and illustrated in the release of her sixth CD, Spinning Forth, Eriksson has proven her well-meaning advisors wrong time and time again.

Spinning Forth, recorded with her bespoke ensemble, The Marais Project, has at its heart the key elements of Eriksson's success: deep immersion in the core French baroque repertoire for the viola da gamba, attention to artistic detail and a willingness to embrace the new in world first recordings of a major new work by Paul Cutlan and commissioned settings of Swedish and Australian folk songs by, respectively, lutenist Tommie Andersson and long -term collaborators, Llew and Mara Kiek. However, one of the most moving tracks on the CD is a sophisticated re-imagining by Eriksson herself of a work by Marin Marais she titled Tombeau for John Dowland. She originally wrote the piece to honour the 450th anniversary of the birth of lutenist John Dowland.
Composing a tombeau, which literally means "grave" or "shrine" in French, is a uniquely gallic way of recognising the death of a friends using the language of music. "Couperin wrote tombeaus, as did Marin Marais and even Ravel" says Eriksson, "The mournful sound of the gamba is well-suited to turning our attention to death! Someone once described the viola da gamba to me as a 'depressed cello!'" Bach of course used the viola da gamba to great effect at important moments in both the St John and St Matthew Passions and Telemann and Handel also wrote beautifully for the instrument.
Where did the CD name come from? "Spinning Forth is the title Paul Cutlan gave to the piece he wrote for me", Eriksson relates. "He was drawing on the baroque idea of fortspinnung, where each musical phrase seems to effortlessly evolve into the notes that come after it, just spinning forth." "In a way spinning forth is also a metaphor for my musical career. I energise myself by finding ways of moving from where I currently am artistically to somewhere new and challenging. I love blending the new and old."
Eriksson never stands still. After the launch of Spinning Forth on December 17 at The Independent, North Sydney, her next recording will be an Australian first CD of original music for the electric viola da gamba with an all-star band of jazz musicians she has assembled. "That's another story", says Jenny, "And more evidence that you can make a living playing the viola da gamba in Australia!"
Artist

If you love interesting, out of the way music and relaxed, concert settings you will love The Marais Project! Jennifer Eriksson originally founded the group in 2000 to perform the complete works of Marin Marais an 18th century genius of my instrument, the viola da gamba. Over the years our repertoire has greatly expanded and now includes a huge range of wonderful vocal and instrumental music for the viola da gamba from the 1300s to the present day. They also commission and arrange new music for the ensemble.
Track Listing
Performers
Composers
Where to buy
Spinning Forth can be purchased online through Buywell Just Classical or the Australian Music Centre which both offer secure online ordering.
This title is also available in (or can be ordered through) many fine music retailers across Australia, including Thomas' and Readings.
Product details
List price

$25.00 AUD

Release date

October 2017

Copyright

© 2017 The Marais Project

Phonogram

℗ 2017 Move Records

Category

Catalogue number

MCD 564

Barcode

EAN 9314574056426