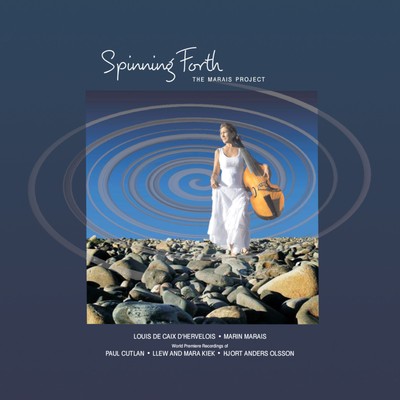 Spinning Forth
The title of this CD is suggestive of the music yet to come. The album draws together several threads implicit in Marais' purpose and their Swedish roots. At the core remains the Viol de Gamba music of the French baroque, but also newly commissioned Australian compositions - spinning forth in new directions.
Jenny Eriksson can't remember how many times she received this advice in the years after she gave up her career as a promising cellist and sold her two cellos to fund overseas' studies on the viola da gamba. Discarding all logical guidance, she caught a plane to Holland and stepped "into the abyss" to create a future for herself on an instrument few music lovers in her home country had heard of and ever fewer seemed to like.
In the decades since, and illustrated in the release of her sixth CD, Spinning Forth, Eriksson has proven her well-meaning advisors wrong time and time again.

Spinning Forth, recorded with her bespoke ensemble, The Marais Project, has at its heart the key elements of Eriksson's success: deep immersion in the core French baroque repertoire for the viola da gamba, attention to artistic detail and a willingness to embrace the new in world first recordings of a major new work by Paul Cutlan and commissioned settings of Swedish and Australian folk songs by, respectively, lutenist Tommie Andersson and long -term collaborators, Llew and Mara Kiek. However, one of the most moving tracks on the CD is a sophisticated re-imagining by Eriksson herself of a work by Marin Marais she titled Tombeau for John Dowland. She originally wrote the piece to honour the 450th anniversary of the birth of lutenist John Dowland.
Composing a tombeau, which literally means "grave" or "shrine" in French, is a uniquely gallic way of recognising the death of a friends using the language of music. "Couperin wrote tombeaus, as did Marin Marais and even Ravel" says Eriksson, "The mournful sound of the gamba is well-suited to turning our attention to death! Someone once described the viola da gamba to me as a 'depressed cello!'" Bach of course used the viola da gamba to great effect at important moments in both the St John and St Matthew Passions and Telemann and Handel also wrote beautifully for the instrument.
Where did the CD name come from? "Spinning Forth is the title Paul Cutlan gave to the piece he wrote for me", Eriksson relates. "He was drawing on the baroque idea of fortspinnung, where each musical phrase seems to effortlessly evolve into the notes that come after it, just spinning forth." "In a way spinning forth is also a metaphor for my musical career. I energise myself by finding ways of moving from where I currently am artistically to somewhere new and challenging. I love blending the new and old."
Eriksson never stands still. After the launch of Spinning Forth on December 17 at The Independent, North Sydney, her next recording will be an Australian first CD of original music for the electric viola da gamba with an all-star band of jazz musicians she has assembled. "That's another story", says Jenny, "And more evidence that you can make a living playing the viola da gamba in Australia!"
Artist

If you love interesting, out of the way music and relaxed, concert settings you will love The Marais Project! Jennifer Eriksson originally founded the group in 2000 to perform the complete works of Marin Marais an 18th century genius of my instrument, the viola da gamba. Over the years our repertoire has greatly expanded and now includes a huge range of wonderful vocal and instrumental music for the viola da gamba from the 1300s to the present day. They also commission and arrange new music for the ensemble.
Press quotes
"Only two pieces on this enthralling album are genuinely "baroque", but the Marais Project's central instrument, Jennifer Eriksson's viola da gamba, is a machine for imbuing all it touches with that stately grace of the music of 300 years ago. Sumptuously recorded, its bass notes are as sonorous as the voice of a great baritone; the high ones diaphanous. The baroque component consists of Erkisson's arrangement of Marais' desolately sad Tombeau pour Marias le Cadet and a suite by Marais' pupil Louis de Caix d'Hervelois that defines elegance. Tommie Andersson (theorbo, guitar) has arranged a plangent tune by the Swedish folk fiddler Hjort Anders Olsson, featuring Mikaela Oberg's baroque flute. Paul Cutlan's quixotic title track is a suite for viola da gamba and harpsichord (Raymond Harvey) that improbably manages to carry echoes of Bach while also being overtly modernist in the two instruments' capricious interaction. Finally, Lew and Mara Kiek playfully fuse the English folk tune The Cheshire Rounds with a Bulgarian 11/8 rhythm as a prelude to the bush ballad The Streets of Forbes (sung by tenor Koen van Stade), proving that Eriksson's instrument can glide through space as well as time."
— John Shand, Sydney Morning Herald
"The Marais Project's new CD Spinning Forth is a gorgeous collection of music which showcases the viola da gamba and its ensemble partners, through dedicated pieces written during its golden age in the 17th century and through its second coming in the 20th century, championed in Australia by viola da gamba player and founding artistic director of the ensemble, Jennifer Eriksson.
The ensemble is named after the great 17th century master of the viola da gamba, Marin Marais and so it is fitting that both Marais and one of his students, Louis de Caix d'Hervelois feature prominently in this album, which opens with the latter's Suite in D minor from the Pièces de viole, Premiere Livre (1708). The ensemble for this suite comprising Eriksson as soloist with Upex playing continuo viola da gamba and Andersson on theorbo, shows a sensitivity to the characteristically elegant French melody and its ornamentation. There is exquisite phrasing and a delicate sense of light and shade. Playing in thirds and often in da capo style with embellishment, characteristic of Caix d'Hervelois, the dances are vibrant and infectiously rhythmic as the viol pirouettes over the chordal bass lines from the continuo viol and theorbo.
The homage Tombeau for John Dowland – is an arrangement by Eriksson for two gambas and theorbo, of Marais' Tombeau pour Marais le Cadet from his fifth book of Pièces de viole (1725). Originally for single viol and continuo, Eriksson has expanded it by adding a second gamba line, lending truth to the observation by the 18thcentury French viol player Hubert Le Blanc that 'nothing in the world touches two bass viols for a perfect rendering of the upper and lower lines'.
There are three contemporary works on the CD, making up the three world premiere recordings. Min levnads afton is a traditional Swedish folk tune made famous by fiddler Hjort Anders Olsson (1865 – 1962), discovered by ethnomusicologist Nils Andersson who, like Bartok in Hungary, travelled the countryside documenting the folk songs of Sweden.
Australian composer Paul Cutlan (1964) composed Spinning Forth, a four-movement suite for viola da gamba and harpsichord which acknowledges as its inspiration, the music of J S Bach. The final quasi-Gigueperhaps best illustrates Cutlan's use of the principal of fortspinnung in this piece. The term, coined in 1915, describes a way of writing where the melody is developed by 'spinning out' a short idea or motif into an entire phrase by various means.
The collection closes with the final world premiere recording of a work by Llew and Mara Kiek,  written in the c1950s, called The Streets of Forbes. The pair of pieces, The Cheshire Rounds and The Streets of Forbesrelate to Australian history and are played by Eriksson, Oberg and Bruce, joined by Andersson on the classical guitar and tenor Koen von Stade. The Cheshire Rounds is set to a complex multi-metric Bulgarian rhythm.
Eriksson has created an ensemble that performs this thoughtful programme with brilliant musicianship. It is an intimate recording, rich in detail – detail that can sometimes be lost in the sound of a larger ensemble or concert hall.
Spinning Forth unites music from across the centuries, continents, styles and hemispheres, illustrating the charm of early music, and demonstrating that old instruments can remain relevant as they make new music."
— Shamistha de Soysa, SoundsLikeSydney
Track Listing
Performers
Composers
Where to buy
Spinning Forth can be purchased online through Buywell Just Classical or the Australian Music Centre which both offer secure online ordering.
This title is also available in (or can be ordered through) many fine music retailers across Australia, including Thomas' and Readings.
Product details
List price

$25.00 AUD

Release date

October 2017

Copyright

© 2017 The Marais Project

Phonogram

℗ 2017 Move Records

Category

Catalogue number

MCD 564

Barcode

EAN 9314574056426