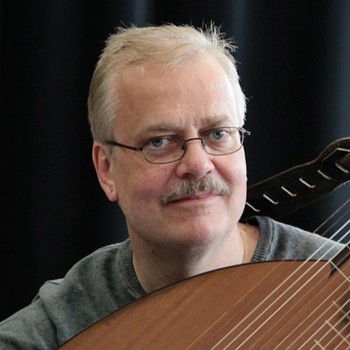 Photo: Steven Godbee
Tommie Andersson
Tommie Andersson was born in Sweden and has been based in Sydney since 1984. He is regarded as Australia's leading specialist in lutes and early guitars.
He completed his studies at the State Conservatorium of Music in Göteborg (Gothenburg), Sweden, with a Master's Degree in Performance, studying under Josef Holecek. He was then awarded a Swiss Government Scholarship for further studies at the Schola Cantorum Basiliensis, where his teachers included Eugen M. Dombois and Hopkinson Smith.
He has toured extensively in Sweden and has given performances and master classes in Scandinavia, Western Europe, Malaysia, Japan and as a continuo player, in South America and Southeast Asia. Tommie Andersson appears on numerous discs and has released a solo compact disc of Baroque lute and guitar music on the Swedish label, Musica Rediviva. He is a founding member of the Australian Brandenburg Orchestra. In 2016, a recording of Swedish folk music he made in the mid-1980s, was released on CD titled Strängalek och Näckaspel.
Tommie Andersson is featured on the following titles
Two brings together the nationally renowned talents of Marais Project founding members, Jennifer Eriksson, viola da gamba, and Tommie Andersson, gallichon, theorbo and baroque guitar, in a seldom heard way. Each plays alternate brackets of solos on their respective instruments before embarking on a joint performance of a splendid suite by Marin Marais.
Performer: Baroque Guitar
Compositions by Tommie Andersson also appear on

Over its long history The Marais Project has continuously pushed the boundaries of the viola da gamba repertoire whether in presenting the long neglected works of Marin Marais and his French baroque contemporaries or launching the electric viola da gamba in Australia.
Arranger

A delicious blend of highlights from Broadway shows, popular music theatre, traditional songs and operatic hits.
Composer
Tommie Andersson also appears on