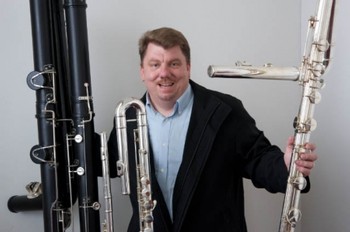 Peter Sheridan
A specialist in low flutes (bass, contrabass and sub-contrabass flutes), performer Peter Sheridan has commissioned over seventy compositions for these unique instruments.
He has recorded Hollywood soundtracks and has been a recipient of awards from Mannes College, University of Arizona, Aspen Music Festival, Ottorino Respighi Festival (Italy), American Composers Forum, and Santa Monica College.
A native of New York City, Peter has performed and taught in America, England and Australia. He has been a faculty member of numerous music faculties in Los Angeles and was a founding member of the Los Angeles Flute Quartet. He is now a Teaching Associate at Monash University, and a woodwinds instructor and band director at Donvale Christian College and Mazenod College in Australia.
He is an active soloist and chamber musician and his flutes can be heard on Albany, Innova, Warner Music Latina, Varese Sarabande and Move record labels.
Peter performs on Kotato and Fukishima bass and contrabass flutes, and Jelle Hogenhuis's subcontrabass and hyperbass flutes.
Artist's website: www.lowflutes.com
Peter Sheridan is featured on the following titles
Peter Sheridan also appears on

A special CD to celebrate Move Records' 50th year. Twenty-four Australian composers were invited to create a new short work for this special commemorative disc.
Performer: Flute

This release of original compositions by Harvey includes solo and ensemble works centred around the monumental fourth piano sonata, a homage to the courageous anti-fascist Antonio Gramsci. This anti-fascist theme percolates through all the works, which range in mood from nostalgically whimsical to furiously satirical.
Performer: Flute