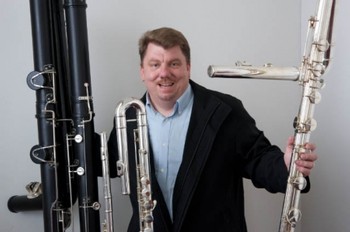 Peter Sheridan
A native of New York City, Peter has performed and taught in America, England and Australia. He has been a faculty member of numerous music faculties in Los Angeles and was a founding member of the Los Angeles Flute Quartet.
He has recorded Hollywood soundtracks and has been a recipient of awards from Mannes College, University of Arizona, Aspen Music Festival, Ottorino Respighi Festival (Italy), American Composers Forum, and Santa Monica College.
A specialist on the low flutes, he has commissioned over seventy compositions for these unique instruments. Peter Sheridan is a Teaching Associate at Monash University, and a Woodwinds instructor and band director at Donvale Christian College and Mazenod College in Australia. Peter performs on Kotato and Fukishima bass and contrabass flutes, and Jelle Hogenhuis's subcontrabass and hyperbass flutes.

He is an active soloist and chamber musician and his flutes can be heard on Albany, Innova, Warner Music Latina, and Varese Sarabande record labels.
Artist's website: www.lowflutes.com
Peter Sheridan is featured on the following titles

Performer
This recording features compositions by living Australian composers, mostly whom are based in Melbourne, Victoria. It is performed by the Monash Flute Ensemble directed by Peter Sheridan. The flute ensemble repertoire of Australia is rather minor compared to other national musical genres, though the country has a rich and vibrant source of fine woodwind composers.

Performer: Flutes, Composer
This recording features the resonant and meditative sounds of the modern day low flutes. These austere, breathy and even creepy flute sounds should inspire an abundance of musical imaginations.

Performer: Alto, Bass, Contrabass and Sub-contrabass Flutes, Composer
This charming and rare recording features predominantly commissioned chamber music for low flutes that was composed to showcase the lyrical and colourful tonal qualities of these instruments, expanding their small yet growing repertoire.