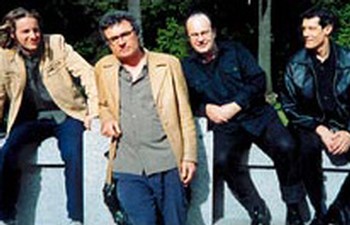 Raga Dolls
Based in Melbourne, Raga Dolls play an unusual yet surprising coherent blend of styles all coming together loosely under the heading of 'Salon Music'.
The group has an unconventional, non-traditional approach to the performance of classical music. They have already had great success in reaching enw audiences who for one reason or another are not regulars at the Concert Hall.
Raga Dolls are developing a strong following via their fortnightly Sunday afternoon concert series at the Viva Club in Collingwood, Melbourne.
They also appear regularly at major events and festivals throughout Victoria, for example the Goulburn Valley Vintage Festival (Nagambie), Grampians Gourmet Weekend (Halls Gap), Montara Scarecrows in the Vineyard (Ararat), Mornington Food and Wine Festival, Warburton Film Festival, The Melbourne Show, Melbourne City Council's Summer Fun in the Parks and many more.
Core members of the Raga Dolls include David Osborne (violin/composer), as well as George Butrumlis (piano accordion), Gary Norman (guitar) and Shannon Birchall (bass). For Wordless Meanings, vocalist Caroline Craig was added for Schubert's "Du Bist die Ruh" and the well-known jazz guitarist, James Sherlock also makes an appearance!
Raga Dolls is featured on the following titles
In the beginning, there was harmony - before anyone thought to ask the question "What sort of music do you play?" ... before everyone became too busy to stop and listen anyway ... before music became 'the music industry' ... harmony was lost in a cacophony of meaningless words.
Members of Raga Dolls