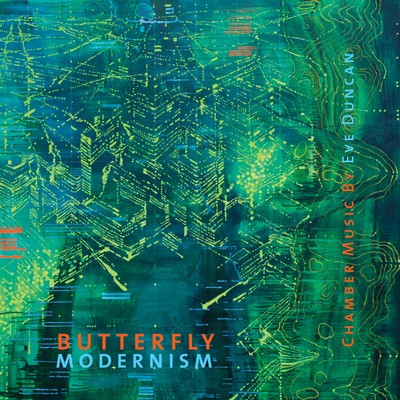 Butterfly Modernism
This is composer Eve Duncan's third release, a 2-CD set, and it heralds new approaches in her music.
Architectural plans of beach houses near Melbourne have been used to create distinctive sound qualities. Cross-media collaboration with photography addresses environmental issues concerning the dredging of the bays near Melbourne. Since the premiere of Buddha on Mars by the National Symphony of Thailand in 2005, Eve's ongoing engagement with Asian-Pacific music has now extended to the distinctive Korean kayageum.
Eve's composition awards include the International Music Prize for Excellence in Composition (Greece), Recital Music Double Bass Composition Competition (England) and the International Modern Music Award for Composition (Vienna). She has served on the Executive Committee of the Asian Composers League and is a past Chairman of the Melbourne Composers League. She completed a Master of Music Composition at the University of Melbourne, Honours in Composition at Latrobe University and is currently a Doctoral candidate at the University of Western Sydney.
Artists
Track Listing
Performers
Where to buy
Butterfly Modernism can be purchased online through Buywell Just Classical or the Australian Music Centre which both offer secure online ordering.
This title is also available in (or can be ordered through) many fine music retailers across Australia, including Thomas', Discurio and Readings.
Product details
List price

$25.00 AUD

Total playing time

115 minutes 59 seconds

Release date

April 2013

Copyright

© 2013 Eve Dncan

Phonogram

℗ 2013 Move Records

Category

Catalogue number

MD 3362

Barcode

EAN 9314574336221