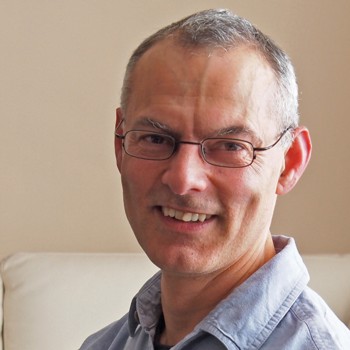 Arjun von Caemmerer
Dr Arjun von Caemmerer is a Hobart-based medical practitioner, Iyengar Yoga teacher/practitioner and writer. In 1995 (with Naomi Cameron) he established The Hobart School of Iyengar Yoga.
Arjun's Pieces of 8, written in celebration of Yogāchāraya Sri BKS Iyengar's 88th birthday, appropriated and juxtaposed eight different translations of Patañjali's Yoga-Sūtra. This book served as the initial stimulus for Michael Kieran Harvey's composition, Patañjali. In a personal tribute to Sri BKS Iyengar (1918-2014), Arjun choreographed and performed a series of yogāsanas (yoga postures) for the premiere performances of Patañjali at Hobart MONA FOMA in January 2015.
Arjun's writing has appeared in The Medical Journal of Australia, extempore, australianjazz.net, Famous Reporter, Unusual Work, The Rondo Hatton Report, and Yoga Rahasya. Arjun's "Vice Versa" – new and selected poems (2016) is available on Collective Effort Press.

Arjun von Caemmerer is featured on the following titles
This is Michael Kieran Harvey's epic catalogue of Biblical errors for eight keyboardists and four percussionists, together with spoken narration written and spoken by Arjun von Caemmerer. There are 25 musical passages interspersed with 25 short narratives.
Performer: Voice
Songwriter
Arjun von Caemmerer also appears on

This is Michael Kieran Harvey's 92 minute multi-instrument solo extravaganza inspired by Frank Herbert's 1966 futuristic ecological novel "The Green Brain", with amusing concrete poetry by Arjun von Caemmerer.
Performer: Voice
Contributor: Concrete Poetry
This music CD and performance DVD is a celebration of Patañjali's Yoga-Sūtra in music and āsana (2015) composed by Michael Kieran Harvey who also plays various keyboards, Arabella Teniswood Harvey (piano) and Eugene Ughetti (percussion).
Performer: Yoga Practitioner
A collection of Michael Kieran Harvey's compositions from 2007-2013 ranging in mood from the relatively serious to cheerful pastiche. Harvey is joined by the very brightest young instrumentalists Australia has to offer.
Performer: Voice
Contributor: Concrete Poetry
Other credits