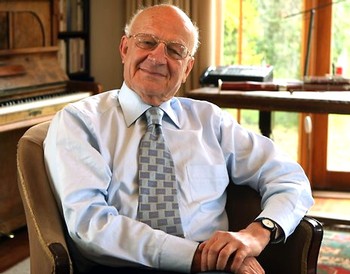 George Dreyfus
One of Australia's best known composers, especially the theme from the TV series "Rush", George Dreyfus was recently awarded a the Order of Merit of the Federal Republic of Germany at the Victorian Parliament House, for services to music.
George Dreyfus was born in Wuppertal, Germany in 1928 and migrated to Australia with his brother and parents in 1939. After formal education at Melbourne High School, he commenced his professional musical career as a bassoon player with the orchestra of Her Majesty's Theatre playing opera, ballet and musical comedy.
In 1953 he joined the ABC's Melbourne Symphony Orchestra, working under international conductors such as Lorin Mazel, Josef Krips, Sir Malcolm Sargent, Andre Cluytens, Charles Mackerras and many others. He left the MSO in 1965 to become a freelance composer, supporting himself by writing film music scores and maintaining a lively public profile through his activities with the ISCM (Melbourne), the George Dreyfus Chamber Orchestra, the GEKKO Opera Company and other performing groups, in which to the present day he continues to be involved. Throughout his freelance years, he has composed, amongst others, four operas, two symphonies, choral and chamber music, and also has many film scores to his credit.
Dreyfus' public persona as a composer was transformed in 1974 when his theme music for the ABC television series 'Rush' became a best-seller. In recent years he has found new outlets for his composing, conducting and performing skills in community involvement: his 'Australian Folk Mass' has been performed throughout the country, as has his music for brass band.
He has been the recipient of various awards and fellowships most notably at: the Australian National University in Canberra (1967 - 68); the German Academy Villa Massimo in Rome (1976); the Mishkenot Sha'ananim in Jerusalem (1980); and at the Conservatoria of Tienjin (1983), Shanghai (1987) and Nanjing (1991). More recently he received the Don Banks Fellowship (1991); and was made a Member of the Order of Australia (1992) for his services to music, particularly as a composer. Dreyfus' music is published by Allans Publishing in Melbourne and his autobiography 'The Last Frivolous Book' (1984) is published by Hale and Iremonger in Sydney.
George Dreyfus is featured on the following titles
Compositions by George Dreyfus also appear on
George Dreyfus is a member of