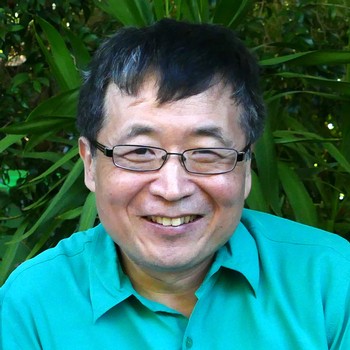 Julian Yu
The multi-award winning Australian composer Julian Yu employs a musical language imbued with a high degree of elegance and expressiveness, which are both enhanced by an impeccable craft and special attention to detail.
His music creates a sonic world, which is constantly changing, and always being framed within a clear sense of shape and direction. Without being overtly referential, his music also shows a strong connection with the Western musical tradition as well as with his Chinese roots, thus, creating a very individual musical discourse.
Born in Beijing in 1957, Julian Yu surprised his non-musical family by starting to compose music at the age of 12. In 1973 he left school early to study composition at the Central Conservatory of Music in Beijing, and later joined the teaching staff there. In 1980 he was sent to Japan to study at the Tokyo College of Music under Joji Yuasa and Schin-Ichiro Ikebe. After his return in 1982 he resumed teaching and wrote a lot of music for film, television and radio as a "ghost composer" under other people's names. In 1985 he migrated to Australia. In 1988, he was selected for a Composition Fellowship at Tanglewood, where he studied with Hans Werner Henze and Oliver Knussen, and was awarded the Koussevitzky Tanglewood Composition Prize for that year.
Since then, Yu has won numerous prizes and much recognition for his composition, including an Australia Council Composer Fellowship and grants from the Australia Council and other organisations such as the Ian Potter Foundation. In 1991 and 1994, an international jury unanimously selected his work for the 1st and 2nd triennial Paul Lowin Orchestral Prizes (Australia's richest award for composition). Other prizes include the Zen-On Piano 2000 composition prize, and awards in the 56th Japan Music Concours, the 35th Premio Musicale Citta di Trieste, and the 1987, 1989 and 1990 International New Music Composers' Competition (USA). He composed music for the opening ceremony (Australasian Section) of the Olympic Games in Beijing (with Broadstock and Barton). For his achievements, he was awarded a Doctor of Music (D.Mus) by the University of Melbourne, where he currently teaches Composition and holds an honorary Fellowship.
His music has been performed at ISCM World Music Days (in Switzerland, Mexico, Luxemburg and Hong Kong), and at many other festivals including Gaudeamus, Huddersfield, Munich Biennale and the Asian Composers' League (ACL) festivals.
Major works include Philopentatonia, commissioned by IRCAM for Ensemble InterContemporain and later performed by Ensemble Modern, the London Sinfonietta, and the Lausanne Chamber Orchestra conducted by Heinz Holliger; Three Symphonic Poems, performed by Sydney Symphony under Gunther Schuller; Great Ornamented Fuga Canonica, performed by the BBC Symphony Orchestra conducted by Oliver Knussen; Wu–Yu, performed by the Tanglewood, BBC, Luxembourg and Hiroshima Orchestras; puppet music theatre The White Snake, commissioned by Hans Werner Henze and performed at the second Munich Biennale International New Music Theatre Festival; Sinfonia Passacaglissima, performed at the Sydney Opera House by the Tasmanian Symphony Orchestra under Markus Stenz; Marimba Concerto, performed by Evelyn Glennie; Not a Stream But an Ocean, commissioned and performed by the BBC Proms; The Future of Water, commissioned by the Tokyo Philharmonic Orchestra; and Willow and Wattle, commissioned by Melbourne Symphony and performed to great acclaim during their tour of China.
Press quotes
"A selection of performances of the work of composer Julian Yu makes Classical Allusion a delight" ★★★★
— Chris Copas, The Star
"Yu's symphonic writing is brilliant [and] highly coloured"
— Dale Keeling, Noteworthy
Compositions by Julian Yu appear on
Julian Yu also appears on

This new CD features the diverse works of six Australian composers that have taken Asian instruments and voices beyond the boundaries of their own traditions. From dan tranh to sheng, from shakuhachi to erhu, this fascinating recording is cross-cultural music at its best.
Performer: Vocals