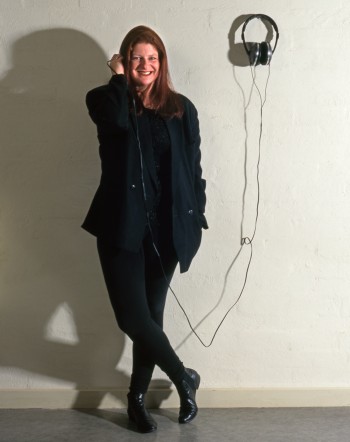 Ros Bandt
Ros Bandt is a composer performer and sound artist who is passionate about combining ancient and modern sonic practices. Her sound research has included building a medieval Pythagorean recorder and she directs the Australian sound design project on line at the Australian centre, The University of Melbourne.
She was the first woman to be awarded the Don Banks Composers Award in 1990, and has won many international awards for installation, radio art and composition. Her innovative sound compositions, performances and environments have been constantly in demand in America, Europe and Australasia. She has a PhD in contemporary music from Monash University.
In addition to her solo work, she records and tours with two ensembles, the early music ensemble La Romanesca and the cross-cultural group Back to Back Zithers. She performs on original instruments and sculptures, as well as historical instruments, flutes, recorders, psaltery and percussion. Her compositions reflect different integrations of acoustic, live electronics and studio manipulation.
Ros Bandt's recordings go back to the last days of vinyl. Her LP record Soft and Fragile was released in 1983 and now forms part of the CD Glass and Clay. Improvisations in Acoustic Chambers appeared in 1981. La Romanesca's Love Lyrics and Romances of Renaissance Spain was released in 1980.
Artist's website: www.rosbandt.com
Ros Bandt is featured on the following titles
Back to Back Zithers are four distinguished solo composer-performers who enjoy sharing each other's traditions and skills in the process of making a new Australian music. Since 1988 they have combines their original ideas with musical thoughts from Vietnam, West Java, mediaeval France and Italy in new compositions which transcend the boundaries of East and West.

New Australian music from Back to Back Zithers which combines original ideas with musical thoughts from Vietnam, West Java, Mediaeval France and Italy.
Performer
Composer
A leading force in early music in Australia since 1978, La Romanesca has developed a special interest in the performance of mediaeval monophonic and polyphonic song, although the group's repertory spans the twelfth to seventeenth centuries.
The Ensemble of the Fourteenth Century is a collective of specialist singers and instrumentalists brought together for the Fourteenth Century Recording Project. The ensemble was initially formed around the leading Australian mediaeval ensemble La Romanesca, which was expanded to provide the varied instrumental and vocal combinations required by the repertoire.

The Music of the Fourteenth Century Series presents some of the earliest and most significant polyphonic settings of the lyric poetry of the late middle ages. Songs by Landini performed by The Ensemble of the Fourteenth Century.
Performer: Psaltery
Performing as LIME
LIME is a group of 4 composer-performers who met while studying composition and improvisation at La Trobe University in 1978.

LIME (Live Improvised Music Events): Gavan McCarthy, Julie Doyle, Carolyn Robb and Ros Bandt. LIME plays original music on original instruments including the glass Flagong, marimbas, Farmarimba and plumbaphone as well as pottery instruments made by Judy Lorraine.
Performer
Composer
Compositions by Ros Bandt also appear on