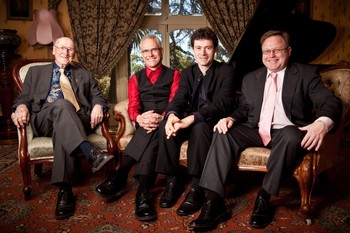 Team of Pianists
Acclaimed both for its high standards of artistry and professionalism, the Melbourne-based Team of Pianists has captivated audiences in Australia and overseas for nearly twenty years.
Coupled with unquestioned commitment to the highest artistic performance standards in its many solo and chamber recitals, concerto performances, CDs, and broadcasts, the Team is equally committed to promoting young musicians through its many masterclass programmes in metropolitan and regional areas alike.
The Team has produced nine CDs covering wide range of music including a number of exciting, yet rarely recorded works, as well as two innovative videos and various publications on the art of piano playing and musicianship.
The members of the Team are Artists-In-Residence for the National Trust of Australia (Victoria) at Glenfern, the National Trust's Centre for the Arts and Culture. Here the Team has recently established the Glenfern Piano Institute which has developed innovative programmes including the Spring Piano School for Primary and Secondary school age students, Weekend Retreats for Adult Piano Students, as well as masterclasses by Australian and overseas artists. Professor Max Cooke is Director, with Robert Chamberlain and Darryl Coote as the Partners.
Two previous members of the Team of Pianists, Sonny Chua and Linda Kouvaras have also released solo piano CDs with Move.
Artist's website: www.teamofpianists.com.au
Team of Pianists is featured on the following titles
Members of Team of Pianists
Past members