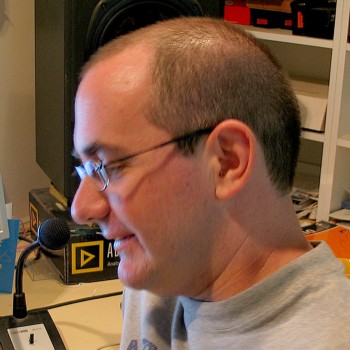 Vaughan McAlley
Vaughan is a composer and arranger, a capable flautist and french horn player as well as engineer of countless Move CD releases.
Performing as Pablo
An a cappella male sextet, Pablo's diverse membership includes a composer, a lawyer and a Latin scholar; all are ex-Ormond College Choir members. This diversity carries into their musical repertoire that effortlessly moves from Mediaeval motets to spirituals to Billy Joel.

Pablo's debut album showcases the folk, pop and soul side of the group, and is the culmination of years of occasional blood, sweat and tears by a sextet of musicians who happen to love to sing in harmony. From folksong to The Beatles, this is a cappella male singing at its best.
Performer: Vocals
Angeli Vocal Ensemble consists of two couples: Kate McBride and Tom Reid (soprano and bass), and Leonie Tonkin and Vaughan McAlley (alto and tenor). Each couple met in choirs directed by Douglas Lawrence. A focus of its repertoire is secular and sacred music of the sixteenth century, so the renaissance-inspired music of Vaughan McAlley suits it well.
Angeli Vocal ensemble, pianist Michael Kieran Harvey, chamber choir Ensemble Gombert, and the Four Seasons String Quartet perform the music of Melbourne composer Vaughan McAlley. It is a fascinating exploration of music written for 4 parts, and up to 40 parts in Vaughan's unique approach to counterpoint.
Composer
Compositions by Vaughan McAlley also appear on
Vaughan McAlley also appears on

One of International Record Review's "Best Discs of 2000". Nominated for Best Classical CD at the 2001 Aria Awards. This album was performed on authentic instruments including Grainger's own staff bells and steel marimba. Many previously unrecorded works are included.
Performer: Tenor
Mixing
Mastering
Other credits